Dear Friend,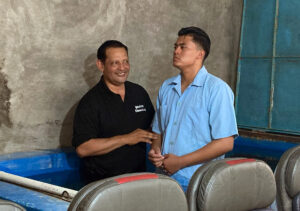 Don't you just love seeing pictures like this? We see pictures like this every week from churches in Central America, Cuba, Spain, Zambia and right here in the United States. These churches are thriving because of the generosity of people like you who support God's work through Herald of Truth!
Giving Tuesday is coming on November 28, and we've set a big goal: We want to raise $25,000 in a single day to help us create and utilize evangelistic commercials to reach the lost. Your support can make it possible! In fact, YOUR SUPPORT CAN MAKE IT DOUBLY POSSIBLE!
What does that mean? Thanks to an anonymous donor, your gift can have twice the effect. Thanks to this donor, any new gift (excluding recurring gifts) given by the end of the year will be doubled (up to $50,000). That means if you give $50 dollars, then $100 total will be donated to support the work of Herald of Truth. That means if we meet our goal of $25,000, we have raised $50,000 for the work of Herald of Truth!
Join us on GivingTuesday, a day that inspires hundreds of millions of people to give, collaborate and celebrate generosity. Together, we can reach this important goal on November 28.
Since GivingTuesday relies on the limitless potential of social media, don't forget to share why you give, tag us and use the hashtag #GivingTuesday and #heraldoftruth.
Fill out the donation form below to be counted on GivingTuesday. Or you can mail your donation directly to us, postmarked by November 28, to Herald of Truth, PO Box 2439, Abilene, TX 79604.
On behalf of the entire staff at Herald of Truth thank you for your support, and we wish you a blessed Holiday season!
Thank you in advance!
Sincerely,
Greg Swindle
President
Herald of Truth Ministries, Inc.