You are the salt of the earth, but if salt has lost its taste, how shall its saltiness be restored? It is no longer good for anything except to be thrown out and trampled under people's feet. You are the light of the world. A city set on a hill cannot be hidden. Nor do people light a lamp and put it under a basket, but on a stand, and it gives light to all in the house. In the same way, let your light shine before others, so that they may see your good works and give glory to your Father who is in heaven.
– Matthew 5:13-16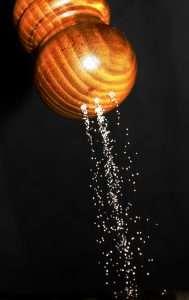 Salt can only do its job when it leaves the salt shaker. Light only makes a difference when it interacts with darkness; pointing a flashlight at the sun won't accomplish much. Without contact, there is no impact.
For us to be who we are called to be, we have to engage the world around us. We have to be seen by others, with the goal that people will look to God and give glory to Him.
It seems a bit funny to be writing about engagement at this time, with so much talk of social distancing. But now is the time when the world needs what God has to offer: hope, peace, joy.
Find a way to engage with your world. Write a note to a neighbor. Mail a postcard to a shut-in. Encourage the grocery store worker, postal employee, and health professional… everyone that you see! Be salt. Be light. Be engaged.
Without contact, there is no impact.